I'm hearing this front end noise while turning right at slow or no speed. I have a video of the noise but can't figure out how to post it. It's hard to describe but is a clicking noise similar to a squeaky ship or old wood floors. I know... it's weird, just the first thing that pops in my head.
It appears that the drivers side rear lower control arm is leaking but I can't imagine that would make this noise. I can't tell if it's strut noise or rack. Any thoughts?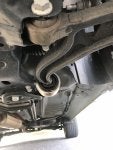 *Edit* To answer the question, 2016 Limited AWD bought certified used in August but already put 28k on it so out of warranty. Currently has 78k on it.
Sent from my iPhone using Tapatalk