Discussion Starter
·
#1
·
First, I am out of warranty. I called Ford yesterday and they had never heard of this, and aren't sure why my Explorer is this way. They recommend that I take it to the dealer and have them look at it. I don't feel like spending the hourly rate for the dealer to tell me that it needs a $25 steering wheel button, so I would like to do this myself.
Can anyone shed some light on how to remove the steering wheel in my 2016 Explorer Limited? I would like to replace the radio control buttons on the right side of the steering wheel. Oddly enough, the buttons to change the radio station are backwards. Even weirder is that my picture is sideways.
To change radio station up, you press down. To change down, you press up. Volume button is correct.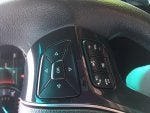 Messing with it briefly last night, I found what appeared to be 4 screws holding the trim piece on. Removing the 4 screws caused the trim to be looser, but it didn't want to come off. I didn't force it though so maybe I just didn't pull hard enough. I was worried that there were other screws that I couldn't see. I am wondering if the airbag needs to be removed. If so, how is that removed?
On my BMW, there are spring clips that need to be depressed from each side of the steering wheel. These are accessed through holes in the back of the steering wheel. Is that how this one is removed?
To remove the radio buttons, do I just need to remove the 4 screws holding the surrounding trim piece and pull harder?